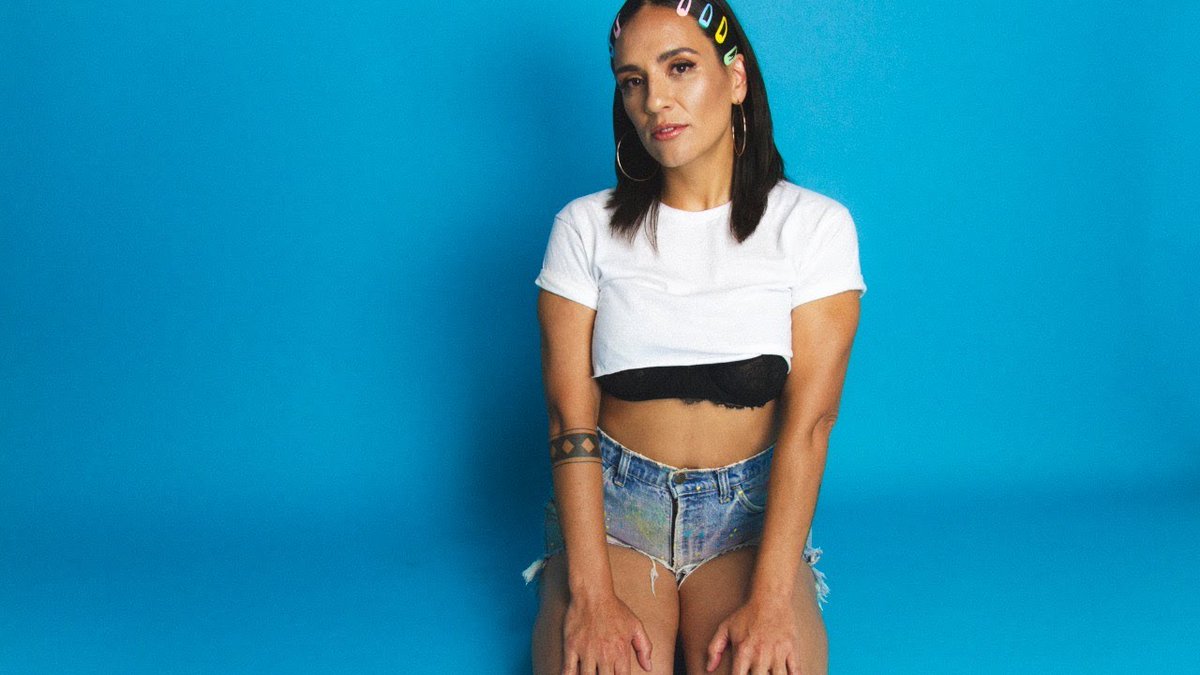 Here are just a few of the LGBTQ+ artists killing it country music right now
Country music has a big problem, and it's got little to do with cowboy hats and lap steel guitars. It's a representation problem – one that has disrupted the very image of country music. 
Music that reminds us of home is not exclusive to straight guys in trucker hats singing about beer and performance patriotism. But this is often the sole image associated with the genre as a whole. 
If contemporary country radio won't help in curating queer contributions of country music, that curation is up to us. Alas, here is a far-from-exhaustive list of a few queer artists killing it in country music today.
A queer Filipino-American woman singing about psilocybin and busting up your "give-a-damns," Mercy Bell is also busting up the traditional molds of country performers in all the right ways. Bell grew up bouncing back and forth between the east and west coasts, finding herself in Nashville in time for the 2019 release of her self-titled record. 
Bell is another of the rare breed seamlessly blurring the lines of modern pop and traditional country sonics. Where "Skip to the Part," chronicles the stomach butterflies of a new lover in a poppy, upbeat manner, "Chocolate Milk & Whiskey" serves as a soft, classical country reminder for Bell to be true to herself, for these are the days she'll remember.
Check out Mercy's 2019 record here:
Jaime Wyatt sings with such a honky-tonked authority on her 2020 album "Neon Cross," you'd think she'd invented the very art of country music. Like a gay, outlaw country Florence Welch, Wyatt invites her cynics to nail her to a Neon Cross. Wyatt is among a rare breed of self-proclaimed outlaw country artists, who were actual "outlaws." Her 2017 album "Felony Blues" chronicles her early battles with addiction and time served in an L.A. county jail.
On the album's closing track "A Demon Tied to a Chair in My Brain," Wyatt sings with a Loretta Lynn-esque country drawl that sounds so authentic, you'd never guess she actually hails from Santa Monica. Signing off the record with a slow fade of sweet bluegrass strings, Wyatt has secured her spot in my favorites of 2020. 
 Listen to Wyatt's "Neon Cross" here:
D'orjay the Singing Shaman
D'orjay the Singing Shaman is here to remind you that country music is – and always has been – Black. Reminiscent of country's early role as protest music, D'orjay's 2020 debut single "New Kind of Outlaw" isn't shy about the industry's history of prejudice those who don't adhere to the cisgender, heterosexual white male image of country music. D'orjay name checks a number of other country acts whose protests sent ripples through the industry, including Garth Brooks and the Chicks. 
With signature outlaw country instrumentation behind a stronger-than-strong vibrato, D'orjay is aware of the target on her back in the industry.
"Country music, what you gonna do?" D'orjay beckons.
D'orjay the Singing Shaman is a beacon of hope for the future of country music as an embodiment of everything our genre should be. She's here to stay, even if you "ain't feelin' her Black queer flow." 
Listen to D'orjay the Singing Shaman's record "A New Kind of Outlaw" here:
Having just come out as gay in February of 2021, T.J. Osborne is currently the only openly gay person signed to a major country label. T.J. is half of country duo Brothers Osborne, performing alongside his older brother John Osborne.
Brothers Osborne certainly plays into those country music tropes of drinking and the niceties of country living. The unbelievably fun feature on Maren Morris' "All My Favorite People" is a prime example.
"Not everybody's gonna find clarity in a back porch sittin' kind of therapy, with a little bit of wine, John Prine, and Camel Blues," T.J. sings in a rumbling bass. "Not everybody leaves well enough alone, stays out of business that ain't their own, but all my favorite people do."
But the band also brings a certain freshness to country music that is so often lacking from the men of the genre. In "Pushin' Up Daisies (Love Alive)," the brothers sing of a love that can't be stopped by something as trivial as death.
"We'll go on 'til we're pushin' up daisies … no, we ain't gettin' out of this love alive," they sing behind a wailing electric guitar.
Check out Brothers Osborne's 2020 album "Skeletons" here:
For nearly two decades, Namoli Brennet's soft, quivering vibratos have brought great a comforting presence to the folkier side of country and Americana music. 2002's "boy in a dress" chronicles Brennet's growing up as a trans woman with soft strings behind a melody that feels both improvised and effortless. 
"I looked at me, I could have seen a girl – or a boy in a dress – or a girl," Brennet goes back and forth.
Brennet hasn't slowed down over the years, touring often and releasing her 13th album "Light It Up" in 2020. On the record's title track, Brennet reminds us not to idle when it comes to our dreams. Listen to the album here:
We cannot even begin to talk about modern roots and Americana music without honoring Brandi Carlile. Carlile's earthy, rock-influenced vocal wails have blessed our years since her 2007 breakout hit "The Story." 
 We saw Carlile's softer country sound return in 2018's "By The Way, I Forgive You." With a combo of soft plucks of an acoustic guitar and percussion that feels like a warm blanket, Carlile tells of the joys and woes of exploring new motherhood in "The Mother." Carlile and her wife Catherine Shepherd welcomed now 6-year-old Evangeline Carlile into the family in 2014. 
In 2019, Carlile joined forces with country's Maren Morris, Natalie Hemby and Amanda Shires to form the supergroup the Highwomen, an homage to the Highwaymen of the 1980s.
Check out the best of Brandi Carlile here:
Emerging from the Gay Ole Opry Festival and Queer Country Quarterly community, Karen & the Sorrows make a point to embrace love in a culture that doesn't historically always love them back. Never has a country croon been so simultaneously delicate and authoritative like that of front-woman Karen Pittelman. 
2019's "Guaranteed Broken Heart" offers the band's most cohesive and established sound, evocative of the early country music born in the Appalachian mountains of East Tennessee and Kentucky. The title track is a mid-tempo unrequited ballad for the ages, where "You're My Country Music" embraces the mushy, romantic stereotypes of the genre with a slow, two-stepping melody. 
Check out "Guaranteed Broken Heart" by Karen & the Sorrows here:
Few artists – maybe no artists – have sufficiently captured the experience of growing up as a queer person in the South like Adeem the Artist on their lead single "I Wish You Would've Been a Cowboy." The song is the first single from Adeem's upcoming album "Cast-Iron Pansexual."
The song's title is a play on Toby Keith's 1993 hit "Should've Been a Cowboy." Adeem calls out Keith for his gun-toting, performative patriotism following 9/11 and exploitation of the American South, ultimately creating a parody of its culture. Even Lady Liberty, Adeem sings, is upset with Keith for misquoting her views. 
"You wore my life like a costume on the TV, milking laborers for your prosperity" Adeem sings with a loveable Carolina twang amid a flourish of acoustic guitar. 
There is no denying that Toby Keith fostered a dangerous trend of blind patriotism and making us country-folk look a fool in country music, but so many of us still grew up singing those songs. Adeem captures that reality with such effortless lyricism and melody. This kind of meta country music – that which criticizes itself – is perhaps what we need the most in this genre today. 
I'll be patiently waiting for the release of Adeem the Artist's "Cast-Iron Pansexual" on March 5, and streaming their back catalogue until then. You should too:
Tony Madden is a journalism student from Springfield, MO, studying arts and culture magazine writing at the Missouri School of Journalism. He's contributed to the education beat for local newspaper the Columbia Missourian, and to the arts and culture section of student newspaper the Maneater. He loves pop, indie/alternative and country music, and enjoys exploring artists that blur the lines of these genres.